Okay tiniest bit of explanation for those not following TWNZ. There is a clone of Jack named Yancy. Yancy got a little friendly with the TARDIS and became 'with coral' (read: pregnant) Working theory is that the actual TARDIS (read: mommy) kidnapped the coral from him and travelled back in time to give it to Jack to raise in the hub.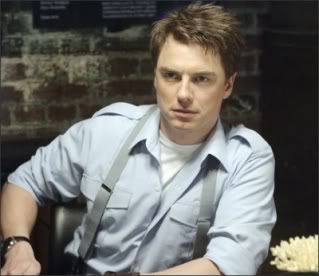 Look at that family photo. Least Jack could have done is smile. Sheesh.
And here's a lovely solo portrait (Who's a cute baby TARDIS? YOU ARE!!)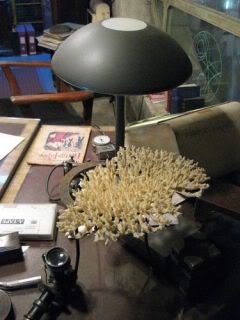 So in messenger one day I spouted a random … something. From Jack to his grandbaby coral:
Sand and oatmeal. You're lucky little one. You get a smooth surface and a heat lamp. I had grit and the searing sun. Sure I shove you off the desk occasionally, but Grandda's got needs
Ianto always apologizes and dusts you off after. Toughen up.
---
Couple days later in messenger:
Sue: g'pa, do you haz any new tales?
Me: *thinks*
Seems weird to raise his own grandkid. Grandkid that looks exactly like his own child with her would have looked. Funny thing, genetics. Guess he didn't miss the opportunity after all.
*adjusts desklamp for optimal exposure to the rays*
Sue: aww - does the grandkid have a name?
Me: not yet
Sue: that's shamefull
Me: says the dad
(she
is
Yancy, after all)
Sue: in yancy's defence, the TARDIS ran off with him/her/it
---
Now this one I started in my notebook to share, but I never finished it. I actually stopped mid sentence AND CAN'T REMEMBER WHERE I WAS GOING WITH IT. It was two weeks ago, but still.
CAN ANYONE HELP ME FINISH THE LAST SENTENCE?
One sided chats with Grandda (continued)
Don't deny that polish sorted your growth just there…more than the miracle grow that turned your side yellow. I was trying to help. Really.
Oh stop that pouting, I can feel it from here, whether you've got lips or not. You're half Harkness and we can't be contained by biology. Every grandfather wants his … Grandson? Granddaughter?
*experimentally picks up coral looking for any new or more pronounced dimpling or … anti-dimples*
Whichever you are, anyone would want you to grow up faster.
You've had hundreds of years as it is. When I was a kid we were put out on our own most days as soon as we could walk. Okay bad safety example considering your uncle. Just avoid any time lords looking for a new set of wheels you'll not be taken away. And if you do see a Timelord? The Doctor? Save us both a lot of trouble. and 1000s years growth time, shell building, travel time with constant sidetrips- Oh I know your mother. No sense of direction coming from that side of the genepool.
But like I was saying, save us the trouble and
-----
And what? WHAT??
HELP