Remember when I said there was going to be a couple posts about my epic sized WIPs?
This is first one of them.
So there is this book called Knit a Fantasy Story, by Jan Messent. Ever since I heard about it, I knew I had to get my hands on a copy. It's a toy pattern book from the late 80's, so expect some cheesiness in the photos but it is very worth it. There's a section with a farmyard, a castle and then fantasy creatures. I have a thing for play sets with lots of pieces, and these toys look like a great gift idea.
Sadly this book is no longer in print. Since I couldn't find a used copy for a decent price, I requested to borrow it through inter library loan. It took over three weeks, but it finally came in.
(I have since found out you can buy separate books that cover each of the sections. From the Amazon previews they might even have the exact same contents, but I'm not sure. I have a feeling I'll find out about a couple of them at some point.)
I'm starting with the Farmyard Fantasia. It's an excerpt from the book The Knitted Farmyard (by Hannelore Wernhard). Except that's kind of a bad name because, until you get to the accessories, there isn't a whole lot knitted about it. Still I am super excited to be working on this. So excited that I'm actually planning on making two versions of the farmyard.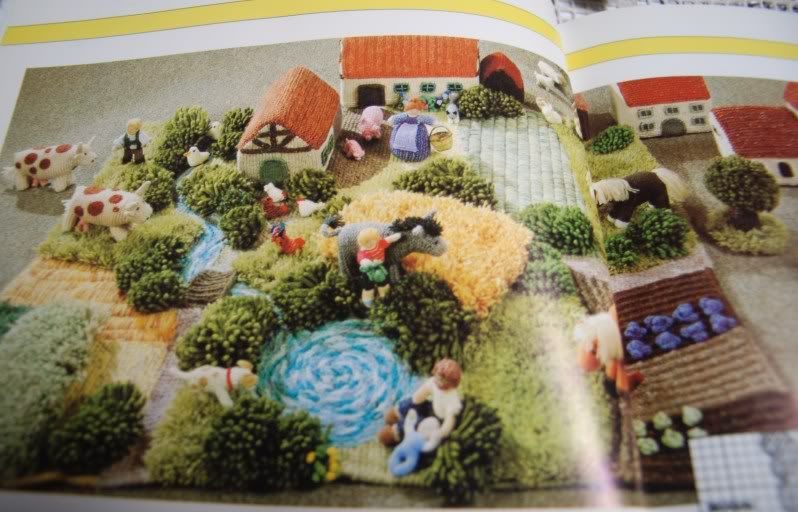 Picture of the farmyard from the book
( Pictures of my WIP and planning details behind the cut )